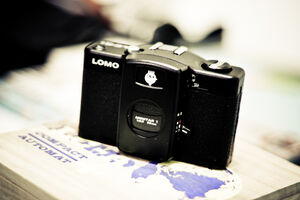 This compact point and shoot camera is the replacement for the original Lomo LC-A, released in 1984. After production was discontinued in 2005 of the Lomo LC-A production of the LC-A+ began in China in 2006. Some of the features include the Minitar 1 lens which gives it the shadowy vignetted look and the options for multiple and extended exposure.
Some of the upgrades in the new model include:
Multiple exposures
Cable release
Expanded ISO range (1600 added and 50 ISO removed)
Grooves added to front bevel to take Splitzer
Attractive all plastic body
Fast f/2.8 lens
Low-level warning light indication in viewfinder
Special lens coating creates super color-saturated shots, both daytime and night
Community content is available under
CC-BY-SA
unless otherwise noted.