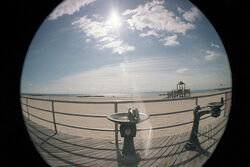 The fish eye camera provides a unique photograph that turns the normal camera angle and view so it literally looks like the photo was taken from a fish eye. The circular image includes images above, below and to each side of the normal view.
This camera offers a 170 degrees view horizontally and vertically. The subjects in the photo can be stretched toward and away from the front of the photo and the images converge in the center. It also has a built in electronic flash, ability for extreme close-ups, and it uses 35 mm film. While the camera does have a viewfinder this feature does not show the photographer the entire 170 degree view they will be capturing.
Whether trying to capture a wider angle or creatively distorting the subjects in a composition the Lomographic Fish Eye camera is a camera with very unique features.
Community content is available under
CC-BY-SA
unless otherwise noted.