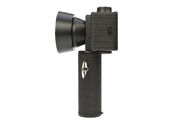 The Lomographic
Spinner 360
is a camera which captures panoramas on 35 mm film. This camera is powered by a manually controlled rubber band drive. Just pull the cord and release and the camera begins to spin around capturing a 360 degree image. Speed of the exposure can be controlled by the speed the cord is released. The camera also has a handle to hold onto while the camera spins and a level on top to level the shots.
Here is an example of a photo taken with the Spinner 360:

Some of the features include:
Uses standard 35mm film that can be processed anywhere
Creates up to 8 full 360° panoramas on a 36-exposure film
Rubber band drive + fully manual controls (no batteries required)
Manual long exposures
Sunny/cloudy aperture settings
Tripod mount
Community content is available under
CC-BY-SA
unless otherwise noted.