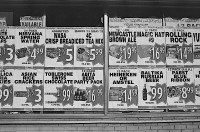 Have you ever wanted your own dark room but didn't have the technology to develop your own photos? Well if you have some coffee and washing soda handy, you just may be able to do it yourself! Although it requires some technique and practice, you can develop negative film with three simple household ingredients. Watch this video by Matt Richardson @ MAKE for a step-by-step tutorial on "caffenol" developed pictures!
Video
Community content is available under
CC-BY-SA
unless otherwise noted.